I've been busy designing some new items for the sewing shop.  Today I am going to show you the newest item – diaper bags.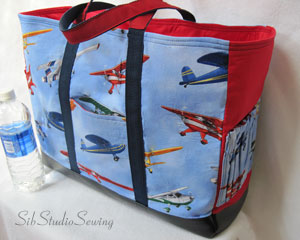 They are based on my tote bags with a redesign to add a zipper closure, side panels as well as elastic pockets on the outside and the inside.  They have the sturdy straps sewn into the bottom and all the way up the sides to make these bags sturdy.
The Airplane bag has faux leather on the bottom and about 2 inches up the sides for easy cleaning for those times that you have to place it on a public floor.  A baby wipe cleans it in an instant.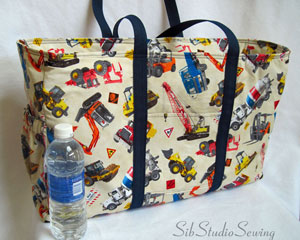 Here is a diaper bag that Dad will be happy to carry.  This extra large bag features a faux leather bottom, 4 outside pockets and 7 inside elastic pockets.
This bag features the ever popular camouflage. The interior is lime green with lime green and white polka dots pockets.  These bags will grow with baby from infancy through toddlerhood.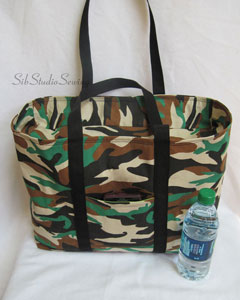 I also have customers who are using these bags as work and travel bags. The zipper closure, pockets and sturdy design make them a great bag for so many uses.
I have more in production – bags cut out and fabric ready for cutting. So look for more to come 🙂