I have tweaked one of my old wine tote designs to make it much sturdier and prettier.  My previous wine tote had elastic loops to hold the wine bottles in the tote bag. It did not hold the wine bottles as securely as I had thought.  So I tried several ideas and came up with a design that works great !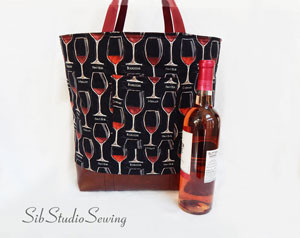 I have added the faux leather bottom and reinforced the bottom of the tote bag with another layer of faux leather and sturdy interfacing on the inside.
Inside I added two large sleeves to hold two bottles, on each side of the tote. The sleeves are sewn into the sides of the tote with 4 rows of stitching to be super sturdy. The bottles stay upright and do not clink together when you are carrying the tote bag.
There are two inside pockets for corkscrews, lunch, cellphones etc, and one outer pockets as well.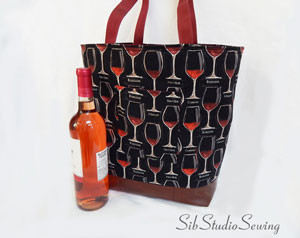 This wine tote bag has plenty of room for lunch, beach towels, a laptop,magazines… etc. Add a bottle of your favorite wine and this tote would make a wonderful gift for newlyweds, housewarming, hostess gift, and for your favorite wine lover.