Happy Monday! Hope everyone's week was a good one 🙂
I have new items in both shops. I finished the Dragonfly Foldover Clutch last week. I had the clutches cut out and ready to sew on my previous post:
And here it is finished :
I love this satin fabric.  It is a heavy weight satin with really beautiful metallic pink, lavender, green, and blue dragonflies. I cut this clutch with an angle for interest when it is folded over.
Inside is  lined with pink satin. It has 4 pockets as well as plenty of room for your larger smartphone and makeup. I made 2 of these clutches and both are up on my shop.
I also have a new painting up on my SibStudio art shop: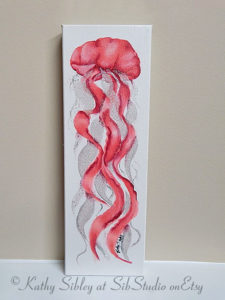 I had a lot of fun with this painting. I like the narrow canvas because it lend itself well to focusing on the jellyfish and it's tentacles.  I added silver glitter paint for some of the tentacles so that it catches the light a gives a little illusion of movement.
The silver paint I used didn't have enough glitter – really, can you ever have too much glitter?! I added more glitter to the paint and into the wet paint.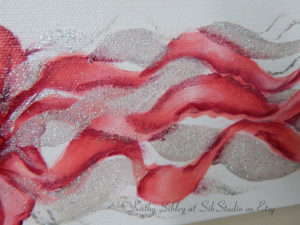 The tentacles really sparkle when they catch the light and gives the airy look of that jellyfish have as they float pass.   Both of these are listed on my Etsy shops. You can find links to my shops on the above menu .